American Elm Hand-turned Bowls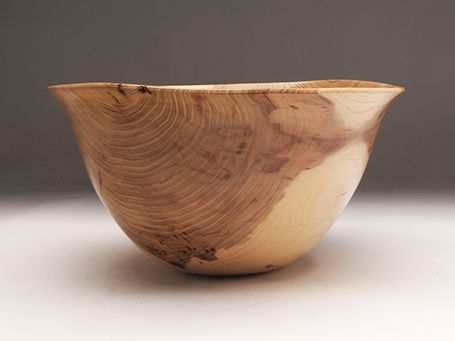 I have received some very large logs of American Elm (quite rare these days) from an arborist here in Santa Fe. The tree was one of the oldest in the national cemetery of Santa Fe. Believed to be 150 years old-perhaps 200 years-I will be making some very large bowls in the coming weeks and months!
Please check back to see some examples of this beautiful wood.
American elm trees (Ulmus americana) are the most susceptible of all to Dutch elm disease. American elm trees are also known as water elms, soft elms, white elms or Florida elms. American elm trees are found throughout Eastern and Central North America. Their range extends as far south as northern Texas and Florida.
Cleveland, Ohio witnessed the first case of Dutch elm disease in the U.S., in 1930.
Apparently, this silent killer arrived in a shipment of logs from France. But Dutch elm disease spread East quickly: Within two years American elm trees in New Jersey were falling prey to the deadly fungus.
The Dutch elm disease had "killed 77 million trees by 1970," wrote Phil McCombs in a 2001 Washington Post story that begins with this picturesque description of how American elm trees once lined the streets of many a town:
"Once upon a time in America, great leafy high-arching cathedrals of elms lined the streets of villages and cities from the Atlantic to the Rockies, casting a deep cool shade upon life's turmoil."